Manzi and McCormack continue Irish / Italian domination in 2015.
Llanberis, Wales – After the drama of a shortened race in 2014, the hope for the 2015 Tyn Lon Volvo International Snowdon Race / Ras-yr-Wyddfa was at the very least for a race the the summit of this world-famous mountain. As the day dawned on the 40th edition, moody skies and a stiff wind were all that hinted at any weather issues, the race to the top was on!
2015 was always going to be special. Stephen Edwards and the race organising team had put on a week of celebrations and races in the village of Llanberis, from a pools tournament, singing concert and a brand new challenging 5k race Come race day, not only was it a big celebration of the 40th edition, but also a change of race start and some familiar faces of past race winners from the last 40 years leading the march along the High Street ahead of 650 runners and in front of thousands of villagers and visitors who lined the first mile of the event.
With many international teams and athletes making the trip to Wales, the continental flavour was in abundance as ever as runners from Italy, Ireland and much of Europe, lined-up with the home country athletes. And as the race culminated some 70 minutes later, it was Italy's Emanuele Manzi and Ireland's Sarah McCormack who emerged victorious in the men's and women's races.
The day had started with the now traditional Snowdon Super Cup / Cwpan yr Wyddfa – this its third year. Starting at 10.30am and featuring some of UK's top mountain running talent in both the men's and women's races the Super Cup is a simple format – from the race field to the summit and the Hafod Eryri cafe, as fast as possible. The event was once again kindly sponsored by the Snowdonia National Park, and it was Chief Executive Emyr Williams who got them underway under sunny skies.
Amongst the 30 runners lining up were recent 5th place finisher at the European Junior Mountain Running Champs, Max Nicholls, Llanberis resident and GB international Rob Samuel, 2013 women's winner Olivia Walwyn and British uphill specialist and Italian resident Emmie Collinge also in the female ranks.
Samuel, Nicholls, recent Twighlight race winner Sam Tosh and England international Martin Cox quickly took hold of the race and matched each other stride for stride until the race reached the steep mountain point nr Hebron, where Nicholls kicked on. The 19-year old didn't really look back from here, passing the halfway house point with a 30 second lead on Tosh and Cox. Samuel was battling hard in 4th, coming back strongly to form after a major foot operation in late 2014. The women's race was proving far more clear as Collinge passed halfway in 6th overall, with almost 3 minutes lead on Walwyn, and Wales' Siobhan Evans in 3rd.
This is how it stayed through Allt Moses and Allt Goch to summit, with Nicholls and Collinge maintaining their dominance to the finish line in thick mist, a stark contrast to the warm sunshine they had started in some 45 mins earlier. Nicholls time of 43:36 proved a class time, almost a minute clear of Tosh in second place, and encouraged the young Salomon athlete to state: "I loved the event, my first time racing up this mountain and I'd like to come back next year, who knows to maybe race down as well!"
Collinge's dominance of the women's race was evident in that her winning time of 46:55 was the fastest ascent ever by a female on Snowdon, ahead of Carol Greenwood's astounding 47:02 from the 1993 up and down race. The context that these athletes were in the knowledge that they didnt have to race down should be considered, however the quality of Collinge's performance should not be underestimated.
2015 was always going to be a year to remember. Not only was it the first time that the race was to start from the High Street since 1976, but also with past winners such as Dave Francis (1976), Bridget Hogge (1976), Mark Kinch (1996), John Wild (1981, 1982) and Joan Glass (1977, 1978, 1979) and a host of others all leading the runners to the start line, and with renowned international singer Sioned Terry singing the Welsh National Anthem the traditional 2pm start was an emotional and moving experience.
As 40 year servants on the Snowdon Race Trefor Edwards, Oliver Edwards, Dic Jones and Doug Pritchard got the runners underway the pace was furious as the runners raced along the Llanberis high street and past the start finish area of Cae'r Ddol and onto the early tarmaced slopes of Snowdon. As in 2014 the Italian team was a strong one, with 2001 and 2003 runner up Emanuele Manzi heading up the trio, and hoping to go one better in 2015. It was he and team mate Massimo Forcaz along with Ireland' Ian Conroy who were leading the way as the race started on the mountain proper.
Ireland's Sarah McCormack had been only the second Irish woman to win the race in 2014 and as she headed onto the mountain path it was apparent that she was intent on continuing the legacy of Irish winners in the women's event, establishing a good early lead. Meanwhile the leading male runners were driving for Half Way house location and it was Italian's Forcaz and Manzi who took on the running with Conroy and England's Ben Mounsey hot on his heels.
These positions remained constant until the runners emerged from the summit mist to touch the peak with 45:39 on the clock and Manzi leading the charge, just. He along with compatriot Forcaz now had over a minute on Conroy and Mounsey, with British fell champion Rob Hope on a charge as they all turned for home.
In the women's event McCormack was proving a formidable competitor once again as she passed the Half Way house station with a lead of over a minute on English runners Rebecca Hilland and Katie Walshaw with Lindsey Brindle not too far behind. As the women's race progressed on to the summit it was looking very likely that the Irishwoman was going to make it two wins in two years, summiting in 53:25, now some two and a half mins clear.
Meanwhile in the men's race all minds were focussed on the bottom of the mountain now, and new-dad Manzi had the bit between his teeth. His descending was formidable as he gradually built a lead of 30 seconds on Forcaz and Mounsey, and as the runners hit the road descent it was clear nothing was going to come between Manzi and his historic win. After crossing the line he commented:
"It's simply amazing to come back and win this race. I tried twice and now this is the third time lucky. I am very pleased and felt very strong coming down the mountain, but was always thinking I had to concentrate. Having my new little girl 20 days ago was the biggest win of my life and now winning Snowdon, this is the second biggest win!"
Behind Forcaz battled through for second after exchanging the lead with Englishman Mounsey, who took a great third place.
Following a terrific ascent of the mountain in second place Englishwoman Hilland unfortunately took a bad fall not long after turning for home, ruling her out of the race. This left Walshaw and Brindle to lead the charge after McCormack down this iconic 5-mile descent into Llanberis. However, the sure-footed Irish athlete was never to be troubled, and once again entered the finish straight with a big smile, knowing she had taken one of the world's most famous mountain race wins and this time on the full route. Her winning time of 1:20:56 was over 3 minutes clear of the fast finishing Brindle, with Walshaw in third.
In the team races England packed well in the men's event, with Mounsey being backed up by Tom Adams and Gary Priestley, and in the women's race there was a popular home win for the Welsh as Katie Beecher, Andrea Rowlands and Hannah Jarvis took the team crown.
Speaking after the event race organiser Stephen Edwards was delighted and humbled by the day in Llanberis:
"I have to say that the feedback and reaction from the runners, past winners, residents and sponsors of the race has been very humbling. Many talk of the best ever Snowdon Race, and the race start in the High Street seemed to be very well received. Each year we try to make the race more enjoyable all round and though there was a lot of work this year with the 40th edition celebrations, it has been a very satisfying event.

"I'd like to thank all of the sponsors, the Snowdonia National Park Authority, Cyngor Gwynedd Council and Barry, Neil and all of the team at Tyn Lon Volvo for their generous support this last three years. Finally, I would like to express our heartfelt thanks to all for the volunteers, supporters and of course the Llanberis community for once again making this a day to remember."
40th Tyn Lon Volvo International Snowdon Race / Ras Rhynglwadol yr Wyddfa – Race Results
Men's Top 3
1. Emanuele Manzi (Italy) 1:10:18
2. Massimo Forcaz (Italy) 1:11:29
3. Ben Mounsey (England) 1:11:39
Team: England
Women's Top 3
1. Sarah McCormack (Ireland) 1:20:56
2. Lindsey Brindle (England) 1:24:13
3. Katie Walshaw (England) 1:25:14
Team: Wales
2015 Snowdon Super Cup / Cwpan yr Wyddfa
Men's Top 3
1. Max Nicholls (Salomon UK) 43:36
2. Sam Tosh (Rossendale Harriers) 44:34
3. Martin Cox (Salford Harriers) 44:44
Women's Top 3
1. Emmie Collinge (Vegetarian Cycling) 46:55
2. Olivia Walwyn (Macclesfield Harriers) 51:27
3. Siobhan Evans 36:44
Full race results are online at the TDL Events Services website.
Race images via Sport Pictures Cymru can be viewed here.
Race highlights are online via S4C's Clic service for 30 days at this link.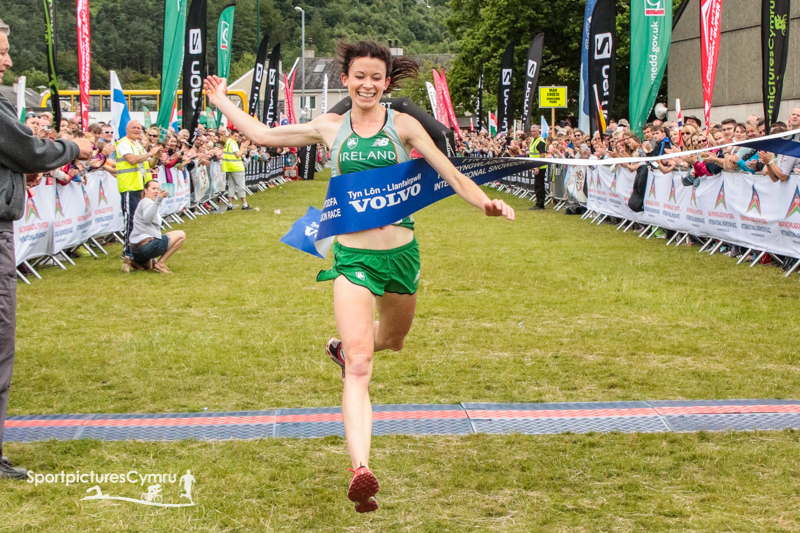 Tyn Lon Volvo International Snowdon Race 2015 women's race winner Sarah McCormack © Sport Pictures Cymru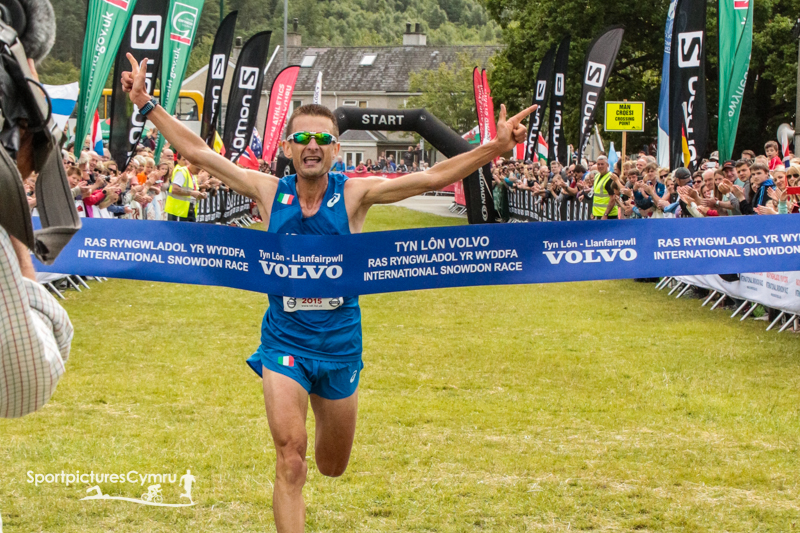 Tyn Lon Volvo International Snowdon Race 2015 men's race winner Emanuele Manzi © Sport Pictures Cymru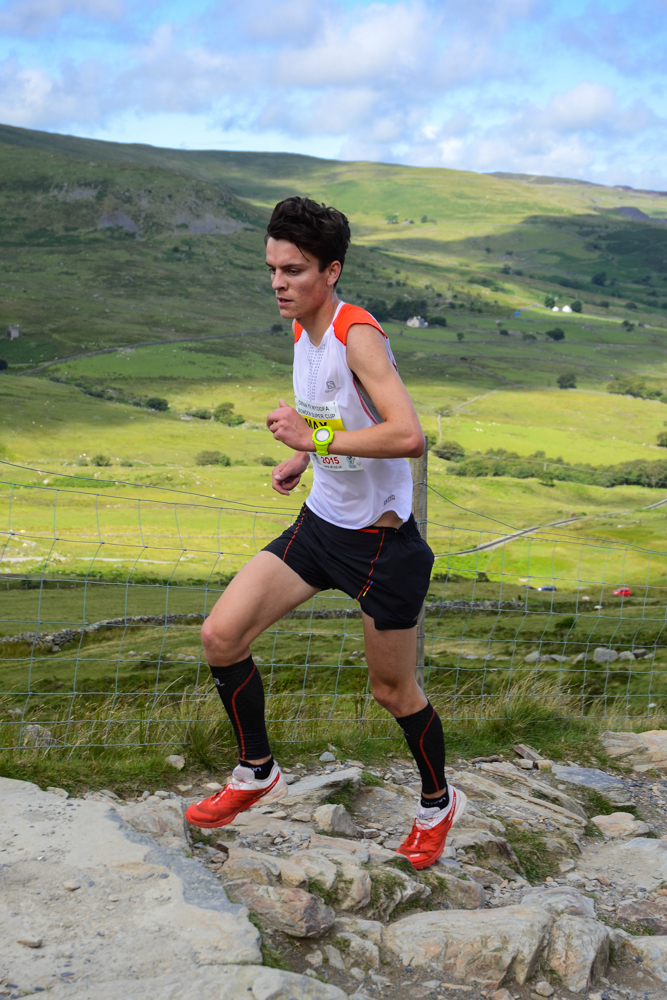 Super Cup winner Max Nicholls drives up Snowdon © Sport Pictures Cymru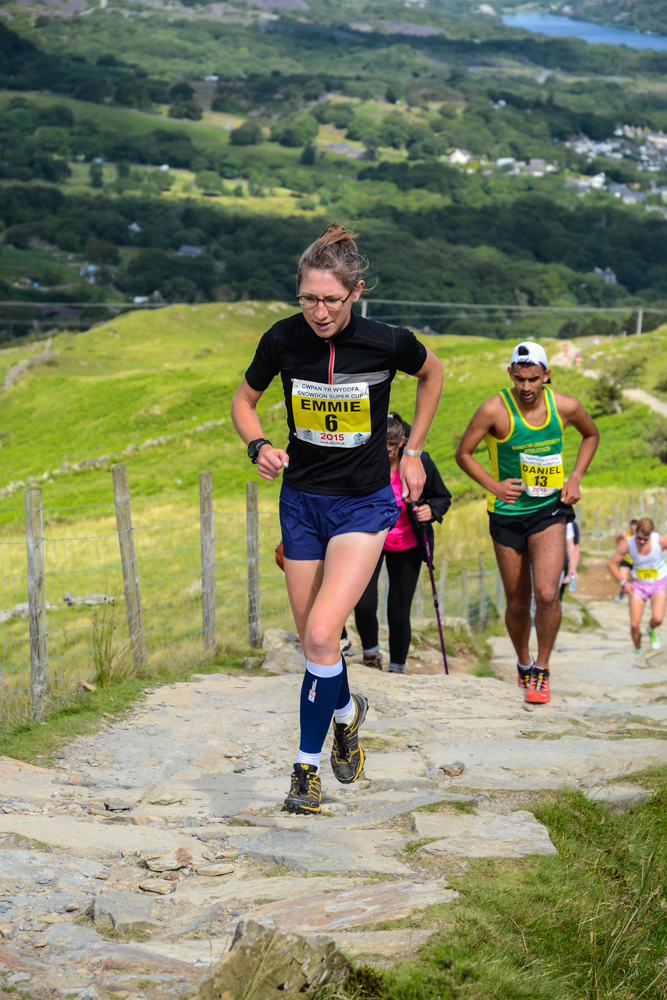 Super Cup women's winner Emmie Collinge on the early slopes © Sport Pictures Cymru